Step 1: Glue the mounting bracket to the Roady
Super glue works well for fastening plastic surfaces together. Exactly how you glue it will depend on your mounting bracket.
Step 2: Bend the arm into position
Before you secure the arm in place, bend it into position and make sure you're happy with it. You'll probably want to bend it in a sharp "U", so that the Roady is as high as possible and as close to the shifter as possible.
Step 3: Duct tape the arm in place
The duct tape will hardly be noticable, since it's only underneath the dashboard.
Step 4: Secure the antenna in the cargo hold
Use the museum putty or mounting tape to stick the antenna to the driver's side trunk ledge, as shown in the photo: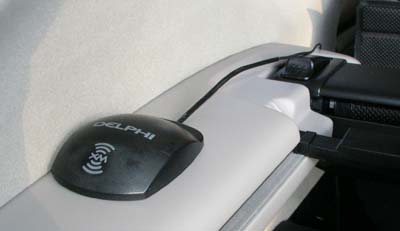 Step 5: Run the antenna wire through the back seats
Fold down the driver's side rear seat and bury the wire in the crack between the driver's side rear seat and the center seat. The wire should be invisible when you fold the seat back up, and it should come out on the floor.
Step 6: Run the antenna wire under the mat behind the driver's seat to the Roady
You can secure the wire by running it on the inside of the mat buckle. Run it under the driver's seat and tie up any extra wire.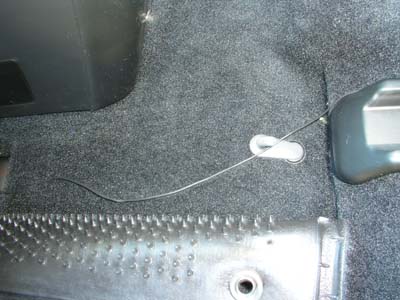 Step 7: Connect the power adapter, antenna wire, and FM transmitter
If you tape these wires to your mounting arm (see top left photo) before connecting it to the Roady, it might help keep the wires out of the way. You can tuck the FM transmitter next to the driver's seat.
Note: The more expensive transmitters will automatically turn on and off with the car as they detect the presence and absence of a signal. If you buy a cheap one, you'll have to remember to turn it on and off yourself.